Hydroponic systems IWS
We will share with you in this topic of a hydroponic system , in particular, practical and very popular among young people, gardeners, interior as well as the farmers professional. These systems IWS Flood and Drain.


IWS : a brief history
IWS, at base, is a range of products from the famous british manufacturer Nutriculture.
Founded in 1976, the Company Nutriculture is a pioneer in the industry of hydroponics. She was the first to put forward on the market of the pebbles on the techniques of hydroponic growers grass. Made also all the more famous through its first system hydro NFT Gro-Tank designed for lovers.
We can say of the brand Nutriculture that it is one of the best of the hydroponics. It produces, among other things, pots, tanks, trays, of trays, lids, baskets, pumps, etc, And, of course, hydroponic systems, such as systems IWS. The acronym "I. W. S." (Intelligent Watering Systems) is today used as a generic term for the horticultural systems of this type. To give you another example, we invite you to discover the systems Alien Flood and Drain , which landed on Indoor Discount ! The innovation does not stop "performer" !

>>> see the systems IWS Flood and Drain Nutriculture
>>> see the systems IWS Flood and Drain Alien


Why choose a system IWS ?
The systems IWS are highly appreciated by the gardeners inside that are designed in quality and not in quantity. In addition, these systems of culture horticulture are simple to use and at affordable prices. Indoor Discount invite you, therefore, to be of interest to you a little moment on the IWS that allow young farmers to quickly become a horticulturist warned !


What is a IWS ?
More specifically, a Smart Watering Systems - Flood & Drain is a system hydro with a tank flexitank incorporates containing water. It is distributed in all the pots, containing the plants and placed on bases. This works on the principle of table tide : the irrigation is done by gravity which distributes the water and the flooding of the bottom of each jar.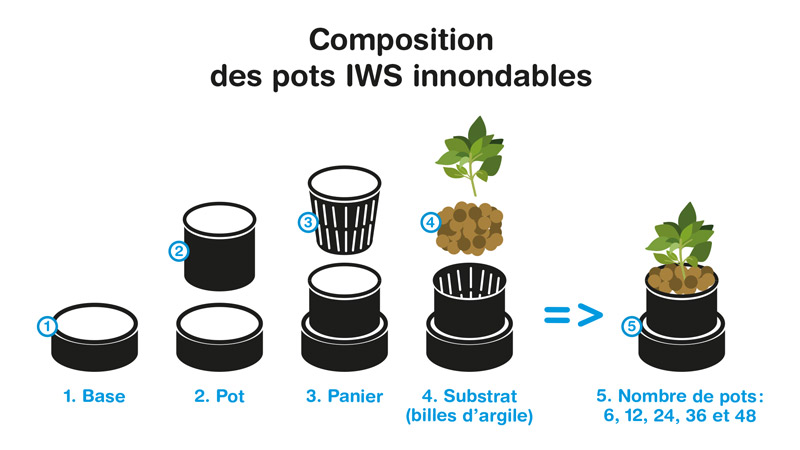 This table tide hybrid only requires a single pump to fill and drain the bucket control positioned to the side of the tank flexitank incorporates. The power of the pump is controlled in the tank and the bucket with both faucets on floats, magnetic.
In order to avoid a possible complete flooding of the pots, these floats are also used to manage the water level. By the phenomenon of flux and reflux (programmable), water is discharged through the culture medium. So she sends effectively the nutrients, while cleaning the roots of the stale air and the renewing by the fresh oxygen.