Indoor Discount shows you the revolution IndoorLed ! Here's the TARANTULA !
An optical system of innovation which can provide levels of PPFD higher than those of a HPS or MH 1000W, on a zone of growth equivalent.
Its spectrum is perfect for young plants to be brought to maturity with vegetative growth maximum and a high capacity of flowering.
Benefits of the Tarantula :
- Allows you to focus each light bar directly towards your plants
- Optimization of the amount of light absorbed by the plants
- Readings PPFD of 800 to 1000 µmol per m2 per second, at a mounting height of 30 cm
- Place the Tarantula closer to your plants (10cm of space at the minimum) without burning or bleaching the plants.
- LED bar adjustable on two axes
- Save 50% less electricity
- Simple to use
- Helps dissipate the heat properly without the need of additional fans
Composition :
- 8 LED bars
- 1 control box
- 8 parts of fastening U-shaped, with the screw
- 1 cable with connector, rubber
- 1 suspension kit
- Instruction manual universal
Technical Characteristics :

Model


Tarantula - 480-1000W

Number of LED bars :

8 LED bars

LED Source :

High efficiency and high CRI COB
+ 3W SMD3535 LEDs

Color temperature :

3045°K

Number of COB :

48 COB + 192x3W

Power supply :

85-265VAC

Driver :

Driver Meanwell

Actual energy consumption :

480W

Beam Angle :

90° or 105° as an option

Waterproof level :

IP 65

Size product :

90 x 75 x 13.5 cm

Net Weight :

13.1 Kg

Gross Weight :

17.3 Kg

Ambient temperature requirements :

-20°C to 40℃

Temperature of storage required :

-40°C to 60°C

Shelf life :

50 000 hours
The spectrum of the Tarantula :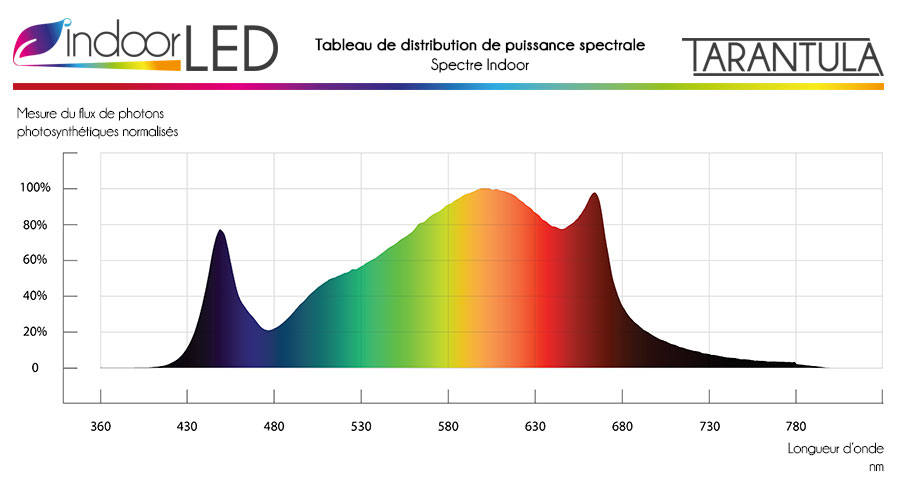 Value PPFD of the Tarantula 1000 / 480W :