Carbon filter: How to trap the smells of his garden
As we have discussed in our page devoted to the ventilation horticulture, odour management is an important aspect of the culture inside. The most widespread method in the treatment of odors is the use of a carbon filter.
What is a charcoal filter ?
The charcoal filters are in the form of a cylinder filled with activated carbon, that is to say that they have the capacity to retain volatile molecules. They can be of different sizes and with varying weights according to their capacity. In the context of a culture indoor, the charcoal filter must be connected to a puller by a sheath and placed in height in your culture room, suspended. If you opt for this system, you will need to pay attention to the humidity of your grow space. In effect, the rate will be and the less the filter will be effective. It is your responsibility to find the balance between the comfort of the plant and the ability of the filter to be effective.
How to install a charcoal filter ?
In the classic manner, the carbon filter must be installed in height, connected to theextractor by a sheath.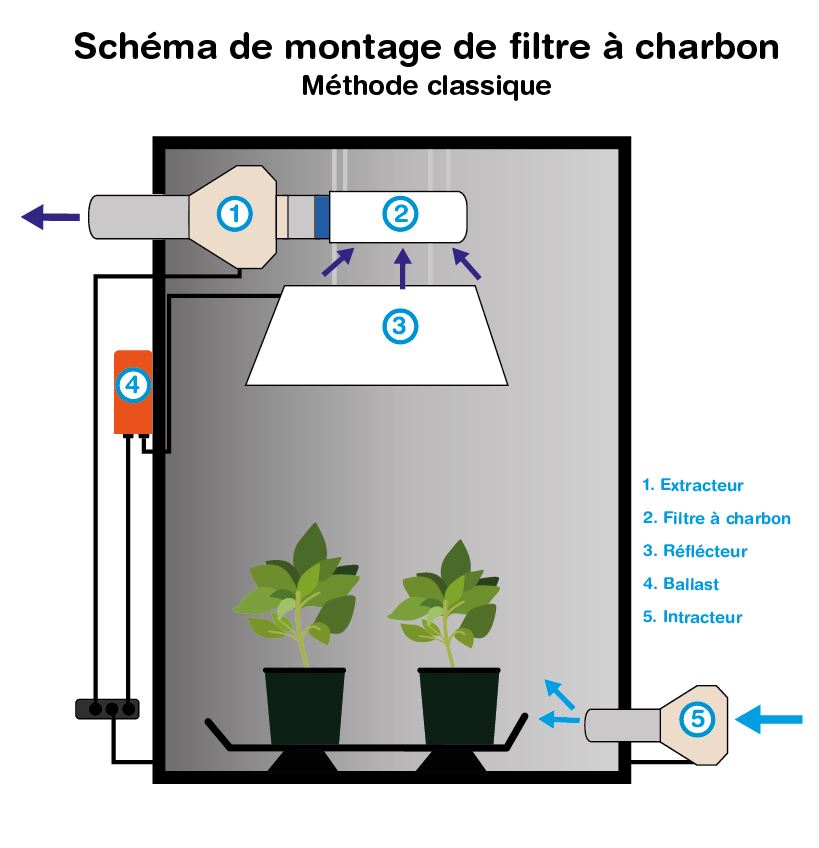 But you can also opt for installation on a reflector vented.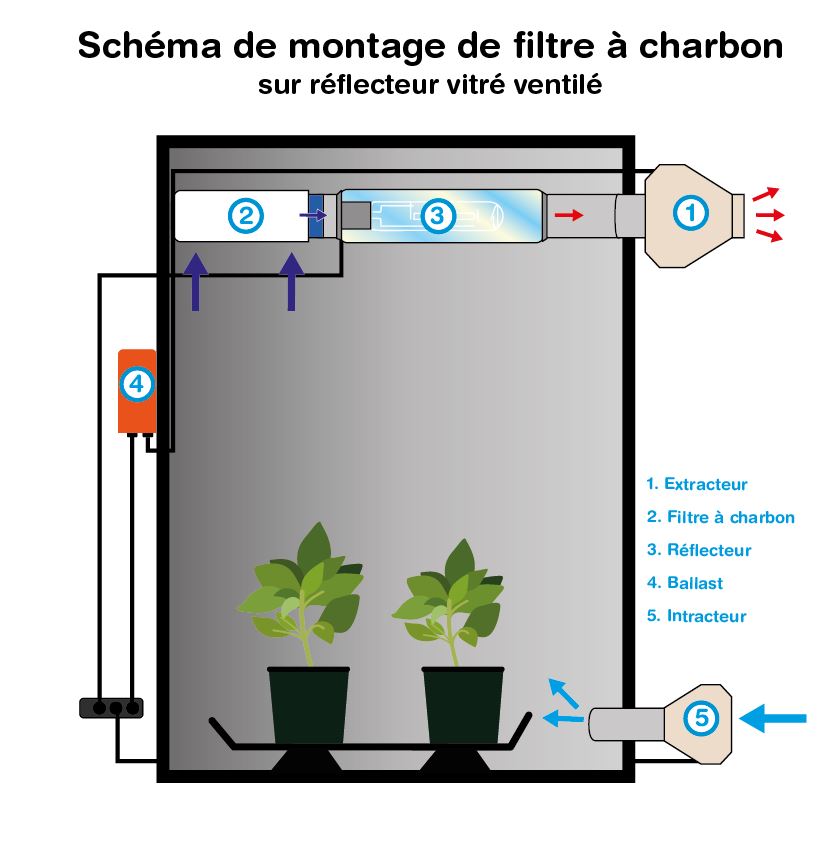 Attention: The above diagrams are for the purpose of explaining the mounting of a charcoal filter. This is not a complete installation.
Now that you have all the keys in hand, it only remains for you to do is choose the carbon filter that fits you the best. Indoor Discount offers you a varied choice to suit all gardeners :
Hy-Filter + Carbon : This range of carbon filter is one of the most widely used thanks to its very good price / quality ratio. It guarantees an absence of the intrusion of pests, dust and odours.
Green Filter : Specialist in the manufacture of filters high performance in the automotive branch, the Green Filter has developed a range of carbon filters is the lightest on the market, very rigid thanks to its structure made of mesh aluminum woven.
Carbocone line by Prima Klima : check out this range of carbon filter designed by Prima Klima, its modern design, the quality of its coal, its lightness, and its term of life make it one of the best carbon filter on the market.
BullFilter Australian Carbon : Tested and approved by the site Hortinews, charcoal filters BullFilter has the best coal-virgin Australia RC -4/8 for the best absorption capacity of the market. 1 gram of RC -4/8 carbon covers an area of up to 1000m2.